The Community Engagement Team's Crime Prevention Resources
The Kernersville Police Department offers a variety of resources to educate citizens and keep your homes, businesses, and families safe and free from crime. The duties of Crime Prevention are assigned to the Community Engagement Team. If you are in need of information not listed on our website, please contact us at 336-996-1120 or at [email protected].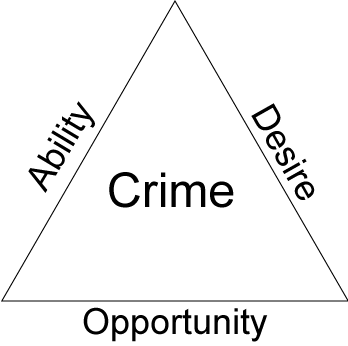 About Crime Prevention
In order for a crime to occur, three things must exist. They are desire, ability, and opportunity. We refer to this as the Crime Triangle. We can't control a criminal's desire or ability but we can greatly influence the opportunity that exists. That's what crime prevention is all about. Here are a few of the ways the Kernersville Police Department can partner with you.
Information
We offer publications on current topics related to crime prevention. Many are available here on our website in our brochure room. If you need information on a topic not listed, please contact us.
Crime Prevention Seminars
Many programs are available for your next civic meeting or community watch program.  Schedule your next event with our Community Engagement Team. Register Online
Community Watch
If you are a member of a community watch group or are interested in launching one, please contact us for more information and register your group. Learn More
Residential Security Assessments
Have an officer conduct a security assessment of your residence and provide recommendations for ways you can reduce your risk of becoming a victim. The homeowner must be present for the assessment.
Commercial Security Assessments
Our Community Engagement Team will conduct a survey of your business and provide feedback. Commercial Surveys take approximately 2 hours and require a key holder to accompany the officer.
Requests for Officer
If you would like to have an officer come to your event, please contact the Community Engagement Team. Officer Appearance Request
Facility Tours
Schedule a tour for your organization.  Visitors are always welcome!
For more information on our Crime Prevention services, please call the Community Engagement Team at 336-996-1120. Their office is open Monday – Friday from 8:30 A.M. to 5:00 P.M.  If you have an emergency, please dial 911.